Volunteers needed for the following projects:
Town of Farmington Volunteer Ops
As Whitman County's 2nd smallest incorporated Town, Farmington is nestled at the base of Skyline Drive and McCroskey State Park. It sits among patchwork fields of grains and legumes in northeastern Whitman County. Whitman County is one of the most productive farming areas in the nation, shipping wheat, barley and lentils worldwide. Skyline Drive offers spectacular views of the Palouse Empire landscape, which reflects the ever-changing agricultural patchwork of the valleys, bordered by surrounding forested foothills.
Located at the confluence of the north and south forks of Pine creek, the town encompasses approximately 0.91 square kilometers at an elevation of 2626 feet above sea level. Farmington enjoys a temperate four-season climate with an average low temperature of 33.08 (F) and an average high temperature of 57.83 (F). The average annual rainfall for Farmington is 26.61 inches.
Farmington was first settled in 1871, and was founded and named by G.W. Truax in 1878. Farmington was officially incorporated in 1888.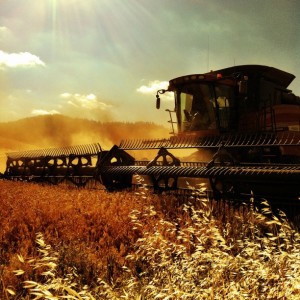 Farmington…The birthplace of the Lentil in the Inland Empire
It was in 1916 that J. J. Wagner planted a small plot of lentils in the young orchard on his farm south of Farmington, WA. J.J. threshed and cleaned the seed from this plot by hand at harvest time and planted all of it the following year.
The 1917 crop, about an acre, was again harvested and cleaned by hand. B.L. Gordon, a wholesaler in Spokane offered 9.5 cents per pound for the lentils. Proceeds from this sale came to $130.00 and was the first commercial lentil transaction in the Palouse Empire.
In addition to this local market, J.J. sold lentils to Loma Linda Foods in California and also overseas to Australia. In a few short years the growing of lentils had gone from a specialty item to a commercial enterprise.
Today, Farmington has one privately owned processing plant in operation. Lentils are now shipped all over the world.